Obesity - A more serious problem than you think
Obesity is a physical problem that afflicts a large proportion of the population nowadays, and therefore constitutes a serious public health crisis in the United States and internationally, with the prevalence of rapidly increasing cases in many industrialised countries. In detail, the National Center for Health Statistics report said that in U.S. individuals 20 years of age or older, obesity prevalence hassteadily increased from 19.4% in 1997 to 31.4% for the period 2017.
Although different classifications and definitions for obesity levels are accepted, the most widely accepted classifications are those of the World Health Organization (WHO), based on the Body Mass Index (BMI). Who designations are as follows:
Grade 1 overweight (commonly called overweight) - BMI of 25-29.9 kg/m2
Grade 2 overweight (commonly called obesity) - BMI of 30-39.9 kg/m2
Grade 3 overweight (commonly called severe or pathological obesity) - BMI ≥40 kg/m2
Some authorities, on the other hand, support a definition of obesity based on body fat percentage, as follows:
Men: body fat percentage above 25%, with 21-25% borderline
Women: body fat percentage above 33%, with 31-33% borderline
Obesity management and maintenance of proper BMI
Treatment of obesity begins with a complete lifestyle change (i.e. diet, physical activity, behavior change), which should include the following:
Self-control of caloric intake and physical activity
Definition of objectives
Stimulus control
Non-food rewards
Prevention of relapses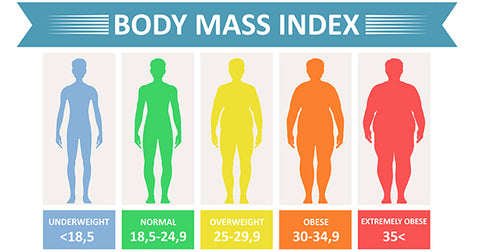 and the 3 main stages of any successful weight loss program are as follows:
Pre-inclusion screening phase
Slimming phase
Maintenance phase: It can presumably last for the rest of the patient's life, but ideally lasts at least 1 year after completion of the weight loss program
In addition, for the most complex cases there are currently 3 main groups of drugs used to manage obesity:
Central-action drugs that impair your intake with diet
Drugs that act peripherally to impair dietary absorption
Drugs that increase energy expenditure
Keep in mind that, for all chronic medical conditions, effective obesity managementmust be based on a partnership between a highly motivated patient and a committed team of health professionals. This team may include the doctor, psychologist or psychiatrist, physiotherapist, dietitiansand other secondary specialists, depending on the comorbidities of the individual patient. Scientific evidence indicates that multidisciplinary programmes reliably produce and sustain modest weight loss between 5% and 10% in the long term.
Sinocare Body Fat Scale - A valid weight and BMI control support
A highly motivated patient should constantly assess the progress made in terms of diet; Sinocare Changsha provides a valid monitoring tool, the "Fat Body Scale", a scale that can not only measure body weight, but also values such as BMI, Fat Mass, Muscle Mass, Body Water, and many others, each calculated accurately and shown to the user in a clear and simple way. In fact, it is enough to connect the Sinocare Fat Body Scale with your Smartphone using the "OK-OK" App; then, the scale will send via Bluetooth the data collected directly on the Smartphone and they will be easily consulted on the App with a clear interface, which shows for each value an evaluation (for example, a BMI of 27 will be provided an evaluation of "Overweight".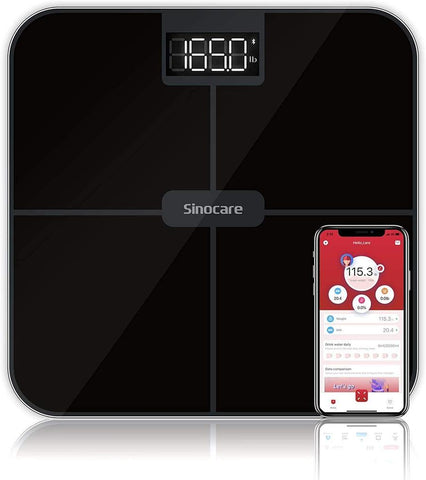 In detail, it is a truly innovative product, which allows you to get all kinds of detailed information you need. Here's an in-depth look at:
Features
As anticipated, Sinocare Body Fat Scale not only shows user weight, but provides 11 additional body results including body fat, muscle mass, BMI, body water weight, bone mass, visceral fat, degree of obesity, protein, body age, fat-free weight, metabolism, thus providing a general overview of user health.
Precision
Sinocare Body Fat Scale is extremely precise, providing ratings in a range that ranges from 180 grams to 180 kg. In addition, each user with their App can monitor the progress of weight loss, with each user's results recorded separately.
Use & Connectivity
Sinocare Body Fat Scale is responsible for making measurements, while the smartphone will synchronize the data remotely through the App; the important thing is that the smartphone with the App installed is always within a reasonable distance for Bluetooth connection, without the need to have the phone on when making measurements on the scale. The App will take care of recording all the data, which can be consulted at any time, so as to monitor its progress at any time.
Capacity
Sinocare Body Fat Scale has been made with a luxurious but at the same time with robust design, therefore it is able to support even the bulkyuser, up to a maximum of 180 kg. Also, the screen is well lit, so you can view it without any problem during the measurement.
Conclusions
The constant and careful use of Fat Body Scale Sinocare allows you to follow in a more motivated and regular way the type of diet prescribed, being able to verify in real time the progress obtained or any errors, so as to promptly undertake a correction with your medical support team.
Note: All information on Sinocare blog articles is for educational purposes only. For specific medical advice, diagnoses, and treatment, consult your doctor.
---
← Older Post Newer Post →
---
1 comment