Demonstration video Of Safe AQ UG: 
 Sinocare blood glucose & Uric Acid Meter is everything you need for your daily health monitoring. You can use Safe AQ UG to conveniently and quickly detect your uric acid and blood glucose levels anytime.

 Accurate and straightforward Testing: It helps you quickly get exact and fast results. A new modern design with a high-contrast LCD is for more accessible and discrete use.
 Advanced Electrode Strips: It can avoid interference from blood oxygen variations and assure you of accurate test results each time.
 Small and Easy to Use: You can use this device with one-handed priming. Fast lancing and personalized adjustable penetration depth settings are employed. A virtually pain-free lancing design can effectively helps minimize skin damage.
Tips: Regular Testing with Safe AQ UG is essential in diet, activities, and medication management for someone with hyperglycemia, hypoglycemia, gout, hypertension, obesity, and other cerebrovascular diseases.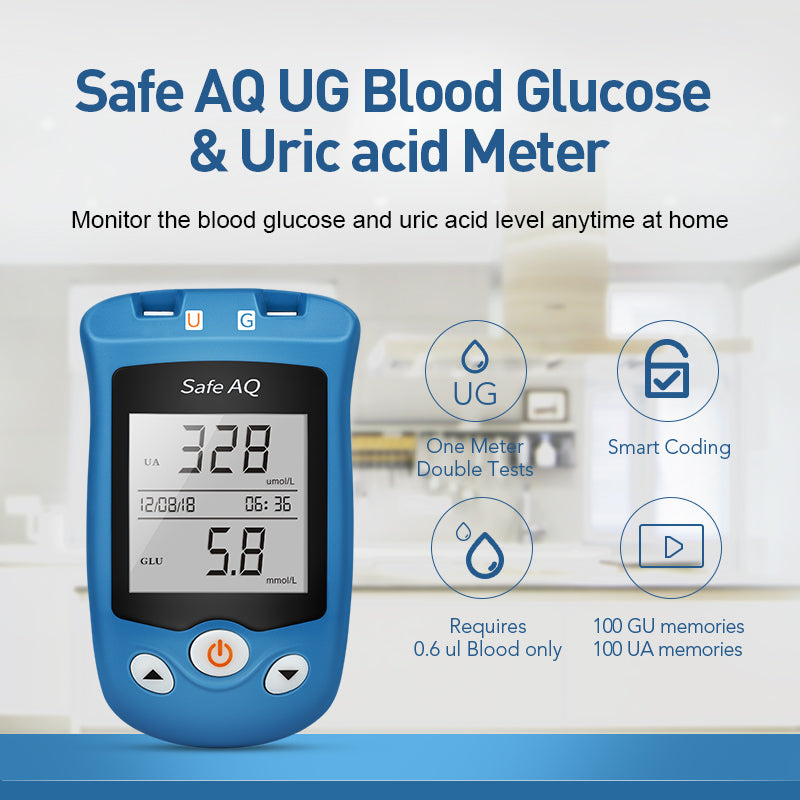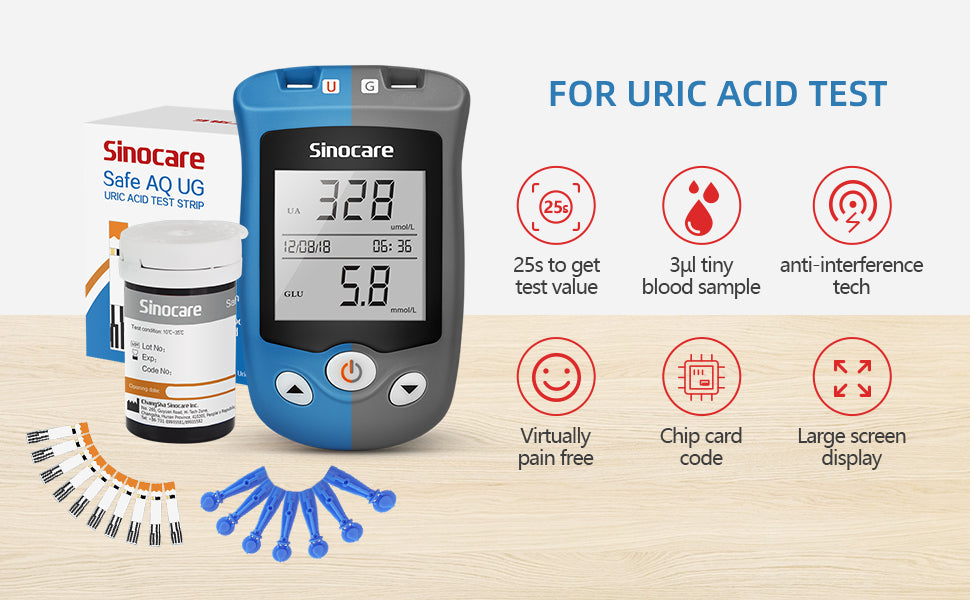 Note:
Batteries are not included in the package because of aviation restrictions.

There're 2 device units optional--mmol/L & mg/dL; please choose according to the standard in your country.

The validity period of blood glucose test strip is 24 months. Please use it within 6 months after opening the bottle. The validity period of uric acid test strip is 15 months. Please use it within 3 months.
Specifications:
Blood Glucose Test
Test Method
FAD-GDH
Sample Type
Peripheral Capillary Whole Blood/Venous Whole Blood
Blood Volume
0.6ul
Test Range
1.1-33.3mmol/L
Test Time
5s
Memory
100 Sets
Validity Date
18 Months
Uric Acid Test
Test Method
Oxidized Ferrocene Derivative
Sample Type
Peripheral Capillary Whole Blood/Venous Whole Blood
Blood Volume
3ul
Test Time
25s
Memory
100 Sets
Validity Date
12 Months
| | |
| --- | --- |
| Step 1 | Check the code to confirm the mode (Test uric acid, Insert the code card into the test system test port, then the screen will show the code.) |
| Step 2 | Insert the test paper, and the instrument automatically boots. |
| Step 3 | Make sure that the code displayed on the screen matches the code on the test paper bottle. |
| Step 4 | Use a lancet pen to obtain fresh blood samples. |
| Step 5 | The instrument is loaded into the test paper to draw blood and wait for the test results. |
| Step 6 | After the countdown of the instrument, the test value would show. |
User Manual:
💗English Version
💗German Version