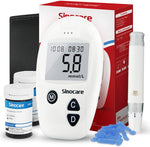 Everybody wishes to be in good shape as far as health is concerned. I can say that I am one of the grateful people who was able to use a Sinocare product, which I can surely say, in no doubt to be a great partner to good health.
What I am speaking of in particular is the complete set of devices to monitor my blood sugar level. It consists of twist lancets, lancing device, glucose test strip, and of course the blood glucose meter. Everything in the kit is very easy to use and I am able to check as well as record my blood sugar level in no time. I am comfortable using all the devices needed to constantly monitor my health.

The manual provided clear step-by-step instructions on how to use each component and also included helpful information to keep the measurements accurate. In addition, removing the cap of the lancing device and setting up the twist lancet is effortless. Adjustment of the needle for pricking fits the layer of my skin on number 3. The process is painless yet sufficient blood needed for monitoring is always obtained. The glucose test strips and the meter itself are a perfect match. Once the strip is inserted to the meter, it automatically turns on and the other end of the strip, upon absorbing enough blood, reads and shows the blood glucose level.

Overall, the blood glucose test kit from Sinocare that I am currently using is of great value and importance. I utilize it with ease and confidence, and that I am making use of the best products in healthcare because of its quality, durability, accuracy, and cost-effectiveness. Truly, Sinocare products deserve to be promoted to the market so that other people can also experience this honest and positive testimony.
Article by Kent Pasia Victoria.
Note: All information on Sinocare blog articles is for educational purposes only. For specific medical advice, diagnoses, and treatment, consult your doctor.
---
← Older Post Newer Post →