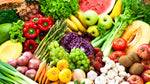 A new study supports the recommendation to eat two servings of fruit a day for health benefits and a lower risk of diabetes. Adults who ate two servings of fruit a day had a 36% lower chance of developing diabetes within 5 years than those who ate less than half a serving of fruit a day, after adjusting for confounding factors, in an Australian population-based study.
The study also showed that higher fruit intake was associated with increased insulin sensitivity and lower pancreatic beta-cell function in a dose-response manner. In addition, a higher intake of apples — but not citrus or bananas, the other two fruits studied — was associated with lower post-load serum insulin levels.
This indicates that people who consumed more fruit — especially apples — had to produce less insulin to lower blood glucose levels. This is important since high levels of circulating insulin (hyperinsulinemia) can damage blood vessels, and this is related not only to diabetes but also to hypertension, obesity, and heart disease.
So, the study supports the recommendation of the Australian dietary guidelines, that is, 2 servings of fruit per day, where one serving is 150 grams, which corresponds to a medium-sized apple, orange, or banana. However, fruit juice was not associated with better glucose or insulin levels, or lower risk of diabetes, possibly due to its relatively high glycemic load and fewer beneficial fibers, the researchers speculate, adding that the data suggest that juice with added fiber also does not trigger satiety. So, the results of the study take the encouragement of the consumption of whole fruit, but not fruit juice, to preserve insulin sensitivity and mitigate the risk of type 2 diabetes.
It is not clear how eating fruit can confer protection against the development of diabetes, but compared to people with a low intake of fruit, the group with a moderate intake of fruit had a 36% lower chance of developing diabetes within 5 years, afteradjusting for age, sex, physical activity, education, socioeconomic status, income, body mass index, smoking, cardiovascular disease, parental history of diabetes, and consumption of alcohol, vegetables, red meat, processed meat and calories.
Prevention of the risk of type 2 diabetes
Recent studies have stated that eating more fruits, vegetables and whole foods may reduce the risk of developing diabetes. In particular, a group of people with higher total consumption of these foods had a significantly lower risk of developing type 2 diabetes than a group that took few of these foods. These findings provide additional support for current recommendations to increase consumption of fruits, vegetables, and whole grains as part of a healthy diet for the prevention of type 2 diabetes.
Similarly, in a large European study, people with higher plasma vitamin C and carotenoids (fruit and vegetable intake) had a lower incidence of type 2 diabetes. This study suggests that even a modest increase in fruit and vegetable intake could help prevent type 2diabetes, regardless of whether the increase is among people with an initially low or highintake.
Previous studies have shown that high consumption of whole grains is associated with a lower risk of developing chronic diseases, including type 2 diabetes, cardiovascular disease andobesity, and in particular research has shown that whole grains for breakfast and brown rice are linked to a lower risk of type 2 diabetes. Therefore, by carrying out new research, participants' basic consumption of seven types of whole foods — whole grains for breakfast, oatmeal, dark bread, brown rice, added bran, wheat germ, and popcorn — relied on self-responses to food frequency questionnaires. During an average follow-up of 24 years, 18,629 participants developed type 2 diabetes. After adjusting for body mass index, lifestyle, and dietary risk factors, participants in the highest group of total whole grain consumption had a 29 percent lower risk of incident type 2 diabetes than those in the lowest consumption group.
The most commonly consumed whole foods were whole grains for cold breakfast, dark bread, and popcorn, and compared to eating less than one serving per month of whole grains for cold breakfast or dark bread, eating one or more servings a day was associated with a 19% and 21% lower risk of developing diabetes, respectively. For popcorn, a J-shaped association was found for intake, in which the risk of type 2 diabetes was not significantly increased until consumption exceeded about one serving per day, which led to about an 8% increase in the risk of developing diabetes – likely related to fats and sugars added to popcorn, say the researchers.
For less frequently consumed whole foods, compared to consuming less than one serving per month of oatmeal, brown rice, added bran, or wheat germ, participants who ate two or more servings per week had a 21%, 12%, 15%, and 12% lower risk of developing type 2 diabetes, respectively.
Limitations include that the study was observational and may have had unknown confounders, and the results may not be generalizable to other populations, the authors note.

A previous small study published by the UK looked at how blood levels of vitamin C and carotenoids are associated with incident type 2 diabetes. They studied the relationship in 9754 adults who developed new-onset type 2 diabetes and a comparison group of 13,662 adults who remained diabetes-free during an average follow-up of 9.7 years, from 340,234 participants in the European Prospective Investigation into Cancer and Nutrition (EPIC)-InterAct study.
The researchers used high-performance liquid-ultraviolet chromatography methods to determine participants' plasma levels of vitamin C and six carotenoids (α-carotene, β-carotene, lycopene, lutein, zeaxanthin, β-cryptoxanthin), which they used to calculate a composite biomarker score.
The recommendation to eat at least five fruits and vegetables per day corresponds to eating ≥ 400 g / day. After multivariable adjustment, higher levels of plasma vitamin C and carotenoids were associated with an 18% and 25% lower risk of incident type 2 diabetes by standard deviation, respectively. Compared to patients whose scores of vitamin C and carotenoid composite biomarkers were 20% lower, those with scores in the top 20% had half the risk of incident diabetes. Increased fruit and vegetable consumption by 66 g /day was associated with a 25% lower risk of developing diabetes.
However, the consumption of fruits and vegetables remains far below the recommendations of the guidelines. Although five servings a day of fruits and vegetables have been recommended for decades, in 2014-2015, 69% of UK adults ate less than this number, and this percentage is even higher in European (EU) adults (86%).
The Best Diet for Type 2 Diabetes
According to some websites, a vegetarian or vegan diet is the ideal diet to prevent and treat diabetes, allowing you to stop treatments. Of course, such claims are completely false, and it is also challenging to determine whether a vegetarian diet is the one that should be recommended on a first-line basis in patients with diabetes in hopes of achieving diabetic control and preventing complications.
Surely, diets that do not contain foods of animal origin are beneficial. On the other hand, a vegetarian diet, although it could apparently provide positive results, it must be borne in mind that this is a typical situation in which it is impossible to establish a causal link between a way of eating and risk of disease, given the importance of confounding factors. Being vegetarian is associated, on average, with a largely healthier lifestyle. This is well known.
In addition, it is well known that high-protein or high-fat diets have a dramatic effect on glycemic control in patients with diabetes, as well as result in rapid weight loss.
Finally, with regard to the Mediterranean diet, unfortunately, no randomized trial has ever compared a vegetarian diet with a Mediterranean-type diet, which contains foods of animal origin. This is a serious shortcoming. Ideally, these diets should be compared if you really want to conclude that vegetarianism is superior. This is a deficiency all the more so since there is abundant literature in favor of the Mediterranean diet to prevent and treat cardiometabolic risk factors, and above all to improve glycemic control in diabetics.
Although no clinical study has compared the vegetarian diet with the Mediterranean diet, there is a recently published network meta-analysis whose overall result is in favor of the Mediterranean diet when it comes to glycemic control. The Mediterranean diet seems to be at least as effective or even superior to a vegetarian diet, which is not so bad and which is associated with better diabetes control.
Note: All information on Sinocare blog articles is for educational purposes only. For specific medical advice, diagnoses, and treatment, consult your doctor.
---
← Older Post Newer Post →