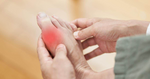 Some patients describe the gout as THE UNBERABLE PAIN in the joints. Only by understanding how gout develops, we can defeated gout. So what are causes of gout?
What causes gout?
When the concentration of uric acid in the blood is too high, crystalized uric acid deposits in the tissues of joints, cartilages, kidney and soft tissues. Gout occurs when urate crystals accumulate in your joint, causing the inflammation and intense pain, which is referred as a gout attack.
What is the relationship between Purines and Uric Acid?
Uric acid is formed once purine is digested in the digestive tract and been oxidized. [1] Purines can be both ingested via food and created in the body. If the metabolism of purines in the human body is disordered, the uric acid will accumulate in the body and crystalized or the excretion will be reduced.
The causes of elevated blood uric acid include increased production of endogenous and exogenous uric acid and decreased excretion.
What are the criteria for judging Gout?
Along with presence of precipitation of uric acid and asymmetric swelling in joints; other factors to judge gout includes hyperuricemia, arthritic attacks, joint redness, and negative culture test for bacterial infections. [1] Hyperuricemia is considered when the fasting blood uric acid level is greater than 420 μmol/L in men and greater than 360 μmol/L in women. [2]
There are several causes of gout which can be roughly divided into the following five categories. [3]
Factors Related to 
Elevated Blood Uric Acid
Medications
Certain medications inhibit the kidney's ability to excrete uric acid, which will increase the levels of the uric acid in the body. These include some thiazide diuretics, cyclosporine, niacin, and low-dose aspirin, etc.
Diet
Eating a diet rich in purines such as meat,(particularly organ meat) and shellfish will cause the levels of uric acid increase. Despite high level of purine; nuts, legumes, asparagus, mushrooms, and oatmeal, are not associated with increased risk.
Alcohol
Drinking too much alcohol (especially beer) is an prominent risk factor of gout. When the alcohol is metabolized into lactic acid in the human body, it inhibits the excretion of uric acid. Alternatively, alcohol promotes the conversion of adenine nucleotides which accelerates the breakdown of adenosine triphosphate in the body to produce uric acid. [4]
Sugar (Fructose)
Excessive sugar intake, particularly of fructose, is associated with increased risk of gout. Fructose is a type of sugar found in plants, most commonly found in fruits, as well as high-fructose corn syrup in sodas and juices. Once, fructose is absorbed into the liver through the intestinal tract, it can generate uric acid within minutes of being consumed.
In addition, fructose can also cause insulin resistance, reduce uric acid excretion, and promote endogenous uric acid synthesis which leads to increased risk of gout [5]
Other Diseases
Renal insufficiency and other kidney conditions can lead to elevated uric acid levels. Other conditions including cardiovascular disease, metabolic disease, diabetes, insulin resistance, etc. are all associated with hyperuricemia. [6]
Recommendations for people with Gout
Following healthy diet and lifestyle can help prevent and reoccurrence of gout attacks. Specific recommendations include: increased vegetable intake, choosing low or non fat dairy, avoiding alcohol intake, weight loss if in excess, smoking cessation, and exercise. [7]
References:
1. Abhishek A, Roddy E, Doherty M. Gout - a guide for the general and acute physicians. Clin Med (Lond). 2017;17(1):54-59. doi:10.7861/clinmedicine.17-1-54
2. Petreski T, Ekart R, Hojs R, Bevc S. Hyperuricemia, the heart, and the kidneys - to treat or not to treat?. Ren Fail. 2020;42(1):978-986. doi:10.1080/0886022X.2020.1822185 https://www.ncbi.nlm.nih.gov/pmc/articles/PMC7534372/
3. Hainer BL, Matheson E, Wilkes RT. Diagnosis, treatment, and prevention of gout. Am Fam Physician. 2014;90(12):831-836. https://www.aafp.org/afp/2014/1215/p831.html
4. Towiwat P, Li ZG. The association of vitamin C, alcohol, coffee, tea, milk and yogurt with uric acid and gout. Int J Rheum Dis. 2015;18(5):495-501. doi:10.1111/1756-185X.12622
5. Jamnik J, Rehman S, Blanco Mejia S, et al. Fructose intake and risk of gout and hyperuricemia: a systematic review and meta-analysis of prospective cohort studies. BMJ Open. 2016;6(10):e013191. Published 2016 Oct 3. doi:10.1136/bmjopen-2016-013191
6. Zhang S, Wang Y, Cheng J, et al. Hyperuricemia and Cardiovascular Disease. Curr Pharm Des. 2019;25(6):700-709. doi:10.2174/1381612825666190408122557
7. S., Singh, M. K., Neogi, T., Pillinger, M. H., Merill, J., Lee, S., Prakash, S., Kaldas, M., Gogia, M., Perez-Ruiz, F., Taylor, W., Lioté, F., Choi, H., Singh, J. A., Dalbeth, N., Kaplan, S., Niyyar, V., … American College of Rheumatology (2012). 2012 American College of Rheumatology guidelines for management of gout. Part 1: systematic nonpharmacologic and pharmacologic therapeutic approaches to hyperuricemia. Arthritis care & research, 64(10), 1431–1446. https://doi.org/10.1002/acr.21772
---
📢Special sales
5.10-5.22, Sinocare has prepared a big sale for our
Safe AQ UG
, which can help you test your uric acid and blood sugar at the same time.
Use the code
5KE769
to enjoy 30% off for the suit and test strips.
What's more, the
1st, 10th, and 20th
customers who place an order for the suits can get
F

REE
 orders😍. On the 22nd, we will randomly select one customer to additional 
SEND
a 25pcs UG suit.
Don't miss out! You are the lucky one!
---
Medical Reviewer: Miho Hatanaka, RDN, L.D.
Miho Hatanaka is a registered dietitian nutritionist specializing in chronic disease management and stress and emotional eating. She graduated from Syracuse University with a Bachelor of Science in nutrition and dietetics in 2015 and completed her internship at Montclair State University in 2016. She is the owner of ZEN Integrative Nutrition & Health, where she specializes in working with busy people who struggle with stress and emotional eating. Miho has been an active member and is currently the chair of the Dietitians in Integrative and Functional Medicine Dietetic Practice Group; a subgroup of the Academy of Nutrition and Dietetics. Additionally, Miho has always been involved with diversity inclusion and multicultural awareness within the field of Nutrition and Dietetics.
Note: All information on Sinocare blog articles is for educational purposes only. For specific medical advice, diagnoses, and treatment, consult your doctor.
---