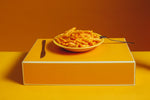 We have always heard to avoid high-salt, high-fat, and high-carb food if a person has diabetes. This is because food like crisps, sweets, fizzy drinks, and riced cakes are all thought to worsen your blood glucose levels. However, Crisps that are low in fat and sugar wouldn't cause much harm. [1]
According to stats, around 6 billion packs of crisps are sold in the UK per year. [2] Most people consume a snack-size bag of crisps almost every day, more at parties. Which shows how much we all love chips and crisps. But the question is are crisps healthy? Can you eat crisps if you have diabetes? Let's find out!
Crisps' Nutrition Facts (Carbs and Calories)
It's very crucial to keep your sugar under control if you have diabetes. Changing your diet and including nutritious elements in your food may help you maintain blood sugar. This is why it's important to know the nutrition facts and values of the products you are consuming. 
Twiglets
They say Twiglets are the most healthy option among all crisps. They are crispy and wheat-based snacks, packed with fibers and vitamins too, which is an unusual ingredient for crisps. Furthermore, Twiglets have half the calories compared with a traditional bag of chips and three times less fat than other crisps. [3]
Here is a breakdown of Twiglets nutritional facts and ingredients per serving (25g):
Wholewheat flour (80%)
103 Kcal
2.8g fiber
3.1g total fat
0.1g sugar
3.2g protein
B vitamins
Yeast extract for flavoring
A little bit of salt (0.5g)
Niacin and folate (hence Twiglets are good for pregnant women too)
Vegetable extract from carrots
Healthy vegetable oils
White pepper
Note: Twiglets contain a total carbohydrate level of 14.3g. This means you shouldn't munch the whole serving at one go. Each serving has 6 packs, so plan your diet accordingly. 
Quavers
Quavers are simply cheese-flavored walkers and are now sold under the same brand name. Quaver is a potato-based snack that is deep-fried and given the shape of a cracker or crisp. It's a healthy option for diabetics who love cheese or potato puffs.
A bag of Quavers, that is, 16g serving size of Quavers has the following nutritional values: [4]
Potato starch (primary ingredient)
86 Kcals
9.9g total carbs (0.4g sugar)
4.9g fats
0.4g proteins
0.2g fibers
0.3g salt
No vitamins or folate
Walkers
Walkers are one of the oldest companies that have been making chips and crisps since 1950. These crisps have a variety of flavors and have multiple sub-brands (you may call them), such as Monster munch, Wotsits, Dorritos, Quavers, etc which are either fried or oven-baked. Therefore, their serving size and nutritional values vary with different flavored chips. 
In general, a bag or pack of walkers crisp has 100 to 130 Kcalories, 2 to 11g fats, 11 to 18g carbs, and 1.3 to 2.2g of proteins. [5]
Note: Whichever product you buy, make sure to check its nutritional facts on the back. 
Are Twiglets/Snack-a-jacks Good for Diabetes?
As mentioned earlier, Twiglets are one of the healthiest options for diabetics. On the other hand, snack-a-jacks are good but not the best option for diabetics. It depends on which flavor you choose. Each pack has less than 100 Kcals. Moreover, Snack-a-jacks have some products that might spike your blood glucose levels. 
For instance, Caramel-flavored snack-a-jacks contain approximately 9g sugar per 30g serving bag, which's a big no-no if you have diabetes. A relatively best snack-a-jack for diabetics would be cheese-flavored rice and corn snack with the least amount of sugar, salt, and fats.
Can Diabetics Eat Crisps?
As much as we love munching on crisps, Diabetics should cut down on their daily intake of crisps. Most refined snacks have sugar, fats, and salt in them, these can only worsen your diabetes. [6]
However, some manufacturers claim to make whole-grain food, you may want to confirm that before consuming tons. Moreover, it's important to know the nutritional values of each product you consume to keep a track of your glucose levels the whole day.
Crisps low in carb and fat are a good choice for diabetics. They keep your sugar levels maintained and still provide high energy levels. 
Surprisingly, Diabetics can eat snacks that have sugar in them too but only to counter their hypoglycemic episodes. [7] For example, if you are injecting insulin twice daily or using any oral Hypoglycemic drug, your sugar levels may drop episodically making you feel weak and dizzy. This is why physicians recommend you keep a sweet snack or a crisp with you all the time in case of emergencies. 
Low Carb/Fat Crisps for Diabetes
Carbohydrates are the compounds that are metabolized in our bodies to form glucose (what we call sugar). In diabetics, the blood glucose levels have already crossed the upper limit and if you keep on eating snacks that are packed with carbs, you are only raising it further. This can even lead to Diabetes complications in the long term affecting the heart, kidneys, eyes, brain, and other body parts.
Snacks that contain less than 10g to 15g of carbs are considered good for managing diabetes and its complications. Their carb levels might be low but still provide you with the required calories to function all day.
Furthermore, eating healthy snacks once a day can help you lose weight as well which is particularly important for type 2 diabetes. This is because healthy snacks can keep your hunger trapped for a longer period without you having to munch on snacks every other minute. 
So which low carb or fat crisps are good for diabetes? 
Fruits, especially, apple and watermelon have the least amount of carbs in them and are definitely fat-free, hence, are an excellent choice for a healthy snack. Other than that, low-fat and low-carb combined with high-fiber and protein-rich snacks ideally should be included in your diabetes diet. [8] You can even mix two or three ingredients to make your healthy recipe for snack time.
For example, low-fat and baked potato chips combined with salsa is a healthy combo containing less than 10g of carbs and is enriched with potassium, as well.
Similarly, cheese crisps with raw or slightly cooked veggies are another healthy option for diabetics. Thin slices of 100% cheese have low calories that are baked to form crisps or crackers. These can be paired with raw veggies to make a tasty and healthy snack.
Tortilla chips are popular for being a healthy choice for people with diabetes. These are usually made out of whole-grain flour or corn and are rich in proteins and fibers and have little to no carbs. 
Best Crackers for Diabetes
Crackers are everyone's favorite snack-time food. But can you eat crackers if you have diabetes? Studies report that you can!
The prime ingredient of crackers is whole-wheat/grain flour packed with fibers which makes them diabetes-friendly. They are made into a dough, baked, dried, and given different shapes. However, make sure the cracker you choose doesn't have many flavors and spices added to it as that can disrupt your balanced diet. 
These are a few healthy and diabetes-friendly crackers: [9]
Kellogg's special K crackers
Nabisco Triscuit Thin crisps
Multigrain crackers
Pita crackers
Gluten-free crackers
FAQs
Do All Chips Contain Sugar?
Anything that has carbs in it means it contains sugar. Most but not all chips contain carbs along with fats and added flavors. Tortilla chips, for instance, contain whole grain flour. However, some companies have added sugar to almost all their products. Read the nutritional facts on the back of each pack to know more.
Can Diabetics Eat Popcorn?
Yes, diabetics can eat popcorn. It's a whole grain food that is air-popped and contains less sugar, and more fiber.  According to USDA, the Glycemic Index of plain popcorn is 55, and the glycemic load is 6, which in simple terms means, it wouldn't cause any harm to diabetics. [10]
Are There Any Diabetic Snack Recipes? 
Considering how common diabetes is, there are multiple snack recipes for diabetics. Some diabetes snack foods that you may like include; hard-boiled eggs, popcorn, bean salad, mixed nuts, and homemade protein bars. You can even make vegetable/fruit-based crisps at home by cutting thin slices of a fruit or vegetable and baking them with preferred spices. 
Final Thoughts
Avoiding extra sugar and fat in every snack is always a wise choice, irrespective of whether you have diabetes or not. A low-carb and low-fat diet only becomes mandatory when you have diabetes. We have made our recommendations based on our knowledge. However, we still encourage you to discuss your daily calorie intake with your health care professional. Your doctor knows more about your specific health condition and can better advise you. 
References
[1] Gray A, Threlkeld RJ. Nutritional Recommendations for Individuals with Diabetes. [Updated 2019 Oct 13]. In: Feingold KR, Anawalt B, Boyce A, et al., editors. Endotext [Internet]. South Dartmouth (MA): MDText.com, Inc.; 2000-. Available from: https://www.ncbi.nlm.nih.gov/books/NBK279012/
[2] Allard, S. (2021, April 26). Healthy crisps: The best and worst crisps for your diet revealed. GoodTo. https://www.goodto.com/wellbeing/crisps-the-best-and-worst-revealed-29343
[3] G. (2021, October 3). Twiglets: Are they healthy, good for you, or fattening? Brit Buyer. https://www.britbuyer.co.uk/twiglets-are-they-healthy-good-for-you-or-fattening/
[4] FatSecret. (2020, July 29). Calories in Walkers Quavers and Nutrition Facts. https://www.fatsecret.co.uk/calories-nutrition/walkers/quavers/1-bag
[5] FatSecret. (2008, May 12). Calories in Walkers Monster Munch Crisps and Nutrition Facts. https://www.fatsecret.com/calories-nutrition/walkers/monster-munch-crisps (fatsecret.com)
[6] McMurray, S. (2021, March 31). Are Potato Chips Bad for You? University Health News. https://universityhealthnews.com/daily/nutrition/are-chips-bad-for-you/ 
[7] What to Eat if You Have Hypoglycemia. (2019, June 28). WebMD. https://www.webmd.com/diabetes/hypoglycemia-diet-tips#091e9c5e81cd0c10-1-3
[8] Diabetes and Snacks: What to Know. (2020, April 28). WebMD. https://www.webmd.com/diabetes/diabetes-snacks#
[9] Baisil, S., MD. (2021, August 1). 10 Best Whole-Grain Crackers for Diabetics. Beat Diabetes. https://www.beatdiabetesapp.in/10-best-whole-grain-crackers-for-diabetics/
[10] Gupta, S. (2019, September 9). Can People With Diabetes Eat Popcorn? LIVESTRONG.COM. https://www.livestrong.com/article/391619-can-diabetics-eat-popcorn/
This article is medically reviewed by Dr. Ahmad Raza. Dr. Ahmad Raza is a House Officer at Bahawal Victoria Hospital, Bahawalpur, Pakistan.
He is a Doctor, Researcher, and Freelance Writer with high expertise in Medical and Health Writing.

Official staff of Sinocare.
Note: All information on Sinocare blog articles is for educational purposes only. For specific medical advice, diagnoses, and treatment, consult your doctor.
---
← Older Post Newer Post →