Menu:
What is Sphygmomanometer?

How to Choose Home Sphygmomanometer?

A Guide to Sphygmomanometer Tests at Home?
What is Sphygmomanometer?
Family medical care has become the fashion of medical care for people, Home Sphygmomanometer is One of the Family medical care Parts. In the past, people had to go to the hospital to measure blood pressure, but now as long as they have a home electronic Sphygmomanometer they can monitor blood pressure changes at any time. If abnormal blood pressure is found, they can go to the hospital for treatment in time, preventing cerebral hemorrhage and heart failure The role of disease burst. In recent years, in accordance with the International Recommendation "Sphygmomanometer Revision Draft Regulations" put forward by the International Legal Metrology Organization, the Sphygmomanometer scale has been changed from millimeter mercury (mmHg) to kPa. 1kPa=7.5mmHg and the graduation value on the scale is 0.5kPa. There are two scales on the sphygmomanometer, please pay attention when applying. Most Home sphygmomanometers use German technology, simple operation, Easy to carry, intelligent inflating and deflating, automatic shutdown, blood pressure value can be measured in one minute, accuracy close to mercury sphygmomanometer, home popular application first choice for automatic electronic sphygmomanometer.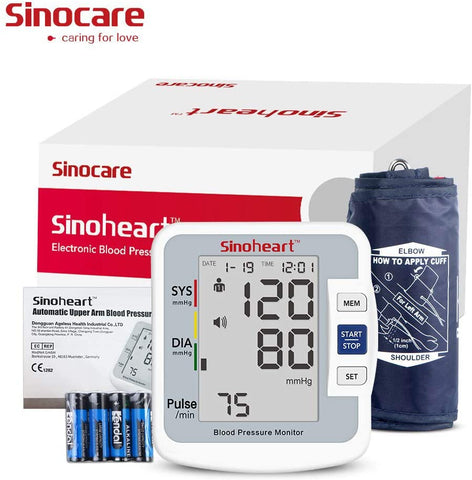 How to Choose Best Home Sphygmomanometer?
There are 3 types of home blood pressure meter, Arm-type, wrist-type, and finger-type. These three types of electronic blood pressure meters, in which finger-type electronic blood pressure meters have been shown not to work even for healthy people. In particular, wrist-type electronic blood pressure meters are not suitable for patients with blood circulation disorders, such as diabetes, hyperlipidemia, hypertension, and other diseases that will accelerate atherosclerosis, resulting in end circulation disorders. The blood pressure measurements of these patients' wrists are much different from those of their upper arms. It is recommended that these patients and the elderly should choose arm electronic blood pressure meter to use. In addition, you should take a field measurement before purchasing in order to choose the right electronic blood pressure meter for you.
When people pay more and more attention to their own health, Sphygmomanometers are indispensable if there are elderly or hypertensive patients in the family. So how to choose a suitable Sphygmomanometer? Today I'm here to teach you six steps to buy an electronic Sphygmomanometer:
Choose a mercury sphygmomanometer or an electronic sphygmomanometer?
①If you are Professional doctors, of course, can choose a mercury sphygmomanometer because the measurement accuracy and stability of the mercury column sphygmomanometer are high, and the technical requirements for users are more strict. If the technology is not in place and the operation is improper, it is easy to cause errors in the measured blood pressure.
②For the general population, choose an electronic sphygmomanometer. The electronic sphygmomanometer is simple to use and convenient to measure.
Choose arm type or wrist type for electronic sphygmomanometer?
When choosing a sphygmomanometer, consider the user's situation.
①For the general population, either the arm type or the wrist type can be used, and the wrist type measurement is convenient.
②Most middle-aged and elderly people (patients with diabetes, hyperlipidemia, high blood pressure, etc.) use the arm pose. For those patients with high blood viscosity and poor microcirculation, compare the results measured with a mercury column sphygmomanometer.  Finger blood pressure measurement error will be large. National hypertension guidelines unanimously recommend upper arm electronic sphygmomanometers certified by international standards.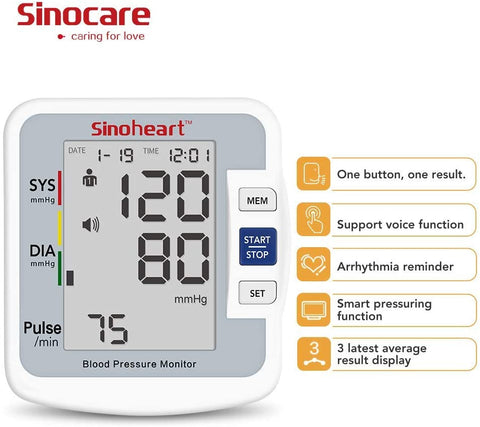 Is the measurement method selected for automatic pressure or semi-automatic pressure?
Before buying a sphygmomanometer, consider whether you can manage semi-automatic compression.
①The fully automatic machine presses a button to automatically pressurize. Fully automatic is to automatically control the air intake.
②Semi-automatic means manual pressure (pressing the rubber ball by hand), manual operation is more troublesome, mainly because the air intake is not well controlled, and the pulse rate tested is not accurate when the air is too low.
Do I need to purchase a blood pressure sphygmomanometer with memory function?
When buying a sphygmomanometer, ask if it has a memory function. The memory function of the sphygmomanometer means to save the blood pressure records (high pressure, low pressure, pulse, etc.) of the measured person in the machine so that the measured person who uses it for a long time can know his blood pressure value over a period of time. Not a good feature. The memory function is generally divided into single group memory and multiple groups memory function; with the date and time function and without date and time function.
There are many models and functions of sphygmomanometer. How to choose the one that suits you?
Refer to other opinions when buying a sphygmomanometer. You can choose the electronic sphygmomanometer you need from the function comparison table of various models of sphygmomanometers. You can also check the sphygmomanometer sales rankings to see what model of sphygmomanometer you bought to decide which model you bought, because Everyone's wisdom is smarter than a single individual.
After-sales service and warranty
When buying a sphygmomanometer, you must ask if there is after-sales service. It is best to choose a brand with after-sales service to facilitate future repair consultations
A Guide to Sphygmomanometer Tests at Home?
Keep Calm for 10 minutes before measuring,
     2.To maintain the positive posture when measuring: The body keeps relax, do not have any movement and speech, the measurement should make the arm/wrist and the heart at the same level of height, in order to ensure this, the upper arm should naturally sagging when using the upper arm;
Do not eat, smoke, exercise, and other factors that affect blood pressure in the first half-hour of the measurement.

It is best to take the average of the two measurements, but the gap between the two measurements should not be less than 3 minutes.

When measuring blood pressure with a semi-automatic manual pressurized blood pressure meter, the pressure value above 30 to 40 mmHg is accurately measured by rapid pressure to a higher than the expected systolic pressure (high pressure).