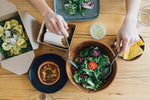 The order in which people with type 2 diabetes eat may affect their blood sugar levels, a small study suggests. In fact, new research has found that protein and vegetable intake before carbohydrates was linked to lowering blood sugar and insulin levels after a meal.
"We're always looking for ways to help people with diabetes lower their blood sugar," said principal investigator Dr. Louis Aaron, and "we rely on medicine, but diet is also an important part of this process. Unfortunately, we found that it is difficult to convince people to change their eating habits," Aaron added. "Carbohydrates raise blood sugar, but if you tell someone not to eat them or to drastically reduce them, it's hard for them to obey. This study points to an easier way in which patients could lower their blood sugar and insulin levels," Aaron said.
The current study involved 11 people with type 2 diabetes, and study participants were given a typical Western diet meal, consisting of a variety of vegetables, proteins, carbohydrates and fats. The meal included chicken breast, steamed broccoli with butter, lettuce and tomato salad with lean dressing, and orange juice. The study included two meals consumed a week apart.
For the first meal, the researchers recorded blood sugar levels in the morning before food. Study volunteers were asked to eat carbohydrates first, followed by protein, vegetables and fats 15 minutes later. The researchers checked the participants' blood sugar 30, 60 and 120 minutes after the meal.
A week later, the process was repeated. This time, however, the patients reversed the order in which they ate the food. Proteins, vegetables and fats were eaten first. The carbohydrates were eaten 15 minutes later. And, again, blood sugar levels were taken at three different times after the meal.
The study showed that after the last carbohydrate consumption, the participant's blood sugar levels were lower by about 29% after 30 minutes, by 37% after 60 minutes, and by 17% after two hours. Insulin levels were also much lower when people first had protein and vegetables, the study revealed.
"Based on this finding, instead of saying 'Don't eat that' to their patients, doctors could instead say, 'Eat this before that,'" Aaron said. Although we need to do follow-up work, based on this finding, patients with type 2 diabetes may be able to make a simple change to lower blood sugar throughout the day, decrease the amount of insulin they need to take, and potentially have a positive and lasting impact on their health."
For more information, the study was published June 23 in the journal Diabetes Care.
Note: All information on Sinocare blog articles is for educational purposes only. For specific medical advice, diagnoses, and treatment, consult your doctor.
---
← Older Post Newer Post →
---
1 comment