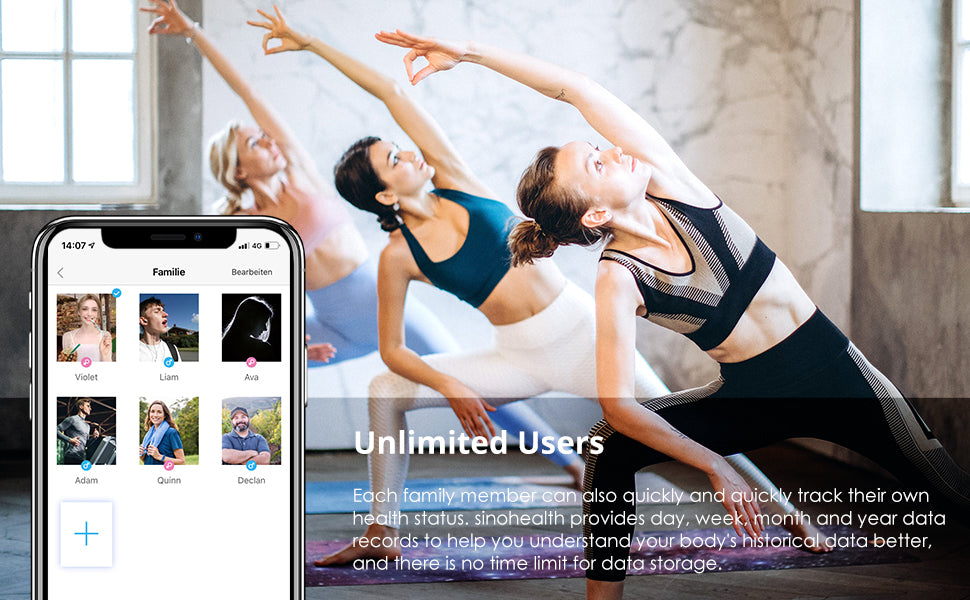 ⚖【Smart app syncs with fitness apps】:SinoHealth app works with google, apple health, Fitbit, and offers app for apple watch. The smart body fat scale is equipped with 100 sets of off-line data. The data from scales can be automatically transmitted to APP and the unit mode of LB/KG/ST can be switched.

⚖【Accurate measurement】:The latest generation E-type high-precision sensor measures fat in 0.05kg / 0.2lb and has a capacity of 180Kg/396lb/28st, subtly sensing every change in the body. There are 14 health indicators provide accurate data from fit tracker scales on weight, BMI, body fat, BMR, protein bone mass, muscle mass, skeletal muscle, body water, visceral fat, fat-free weight, metabolic age, subcutaneous fat, basal metabolism.

⚖【Monitoring progress + unlimited users + sharing】:Record and save each of your measurements, monitor your fitness trends and compare any two sets of data to help you set effective fitness goals. Support for tracking unlimited users, you can share a digital bathroom scale with other family members to measure health status. You can also share your results with friends, co-manage and share your health with one click by this body composition scale.

⚖【Safety and high quality】:International FCC, CE, ROHS certification. 5 mm toughened glass platform with rubber pad, self-illuminating LED display provides clear reading from any Angle. 3 MSDS certified carbon batteries, 4.2 low power Bluetooth, automatic switch allows longer battery life. One smart body fat scale can be used for both purposes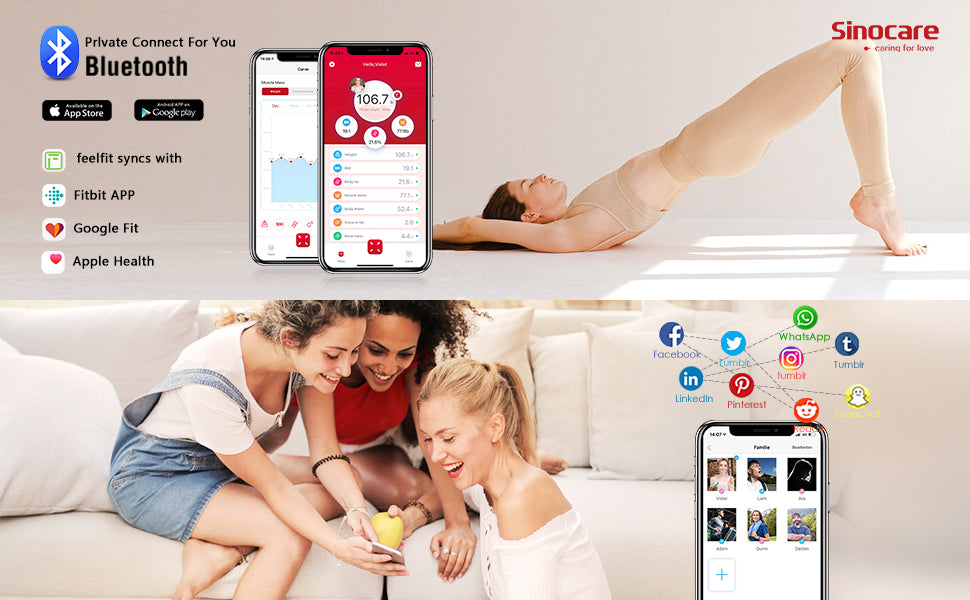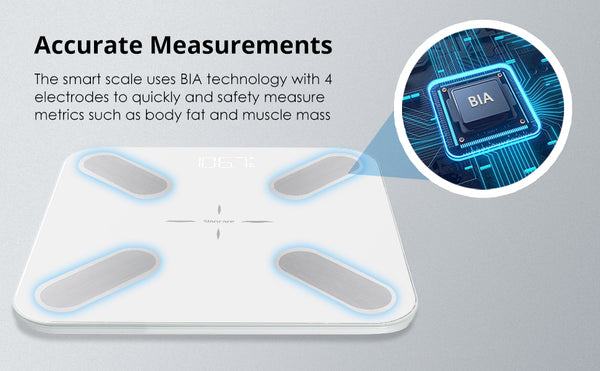 The main features of the Sino Health app
* Track 14 key body indicators
* Unlimited user use and one-click sharing
* Offline testing, data will be synchronized to the application
* Syncs with fitness apps, SinoHealth app works with google, apple health, Fitbit, and offers app for apple watch
14 Key Physical indicators
Body Weight, BMI, Body Fat, BMR, Protein, Bone Mass, Muscle Mass, Lean Body Mass, Body Water, Visceral Fat, Body Type, Standard Weight, Subcutaneous Fat, Basal Metabolism.
14 indicators to help you understand the basic state of your body and help you set goals accordingly.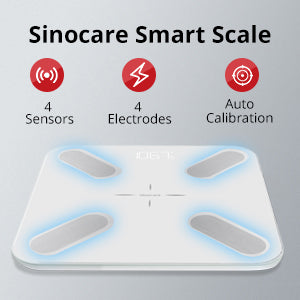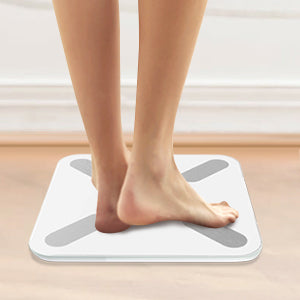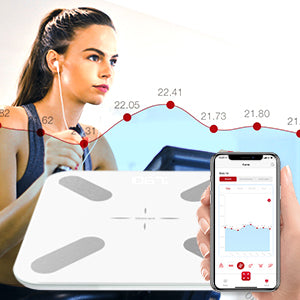 Use Skills
! Please confirm whether you put the scales on barefoot just now, and the feet should be attached to the 4 electrodes.
! The soles of the feet should not be too dry and should be kept a little wet, if in the central heating room can wear shoes to test again.
! Place the scale on a flat, hard surface. The floor of carpets, blankets and patchwork MATS cannot be weighed
SPECIFICATION
Product size: 280*280*25mm

Unit: LB/KG/ST

Maximum weight: 180Kg/396lb/28st

Display: LED

Connection: Bluetooth 4.2

Hint: Overload, low battery

Battery: 2 x 1.5V AAA