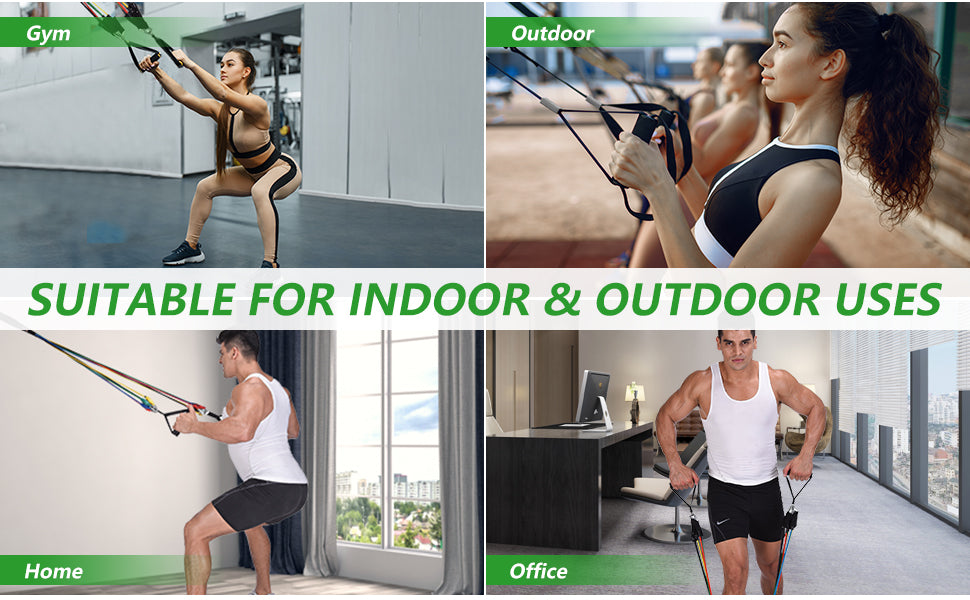 About our resistance bands
[Adjustable Resistance Bands] 5 bands can be used alone or stacked in any combination of intensity from 10lbs to 150lbs. With attachable handles, ankle straps, door anchor, you can choose different training methods for building strength. The exercise bands are 36" in length, suitable for men and women.
[Lightweight and Portable] These bands are so lightweight and this resistance kit comes with a cloth pouch, you can easily pack them in your suitcase or in your car, so you can exercise in the workplace or in your hotel room. Bands take up little space, are easy to transport, and can be used by anyone from beginners to fitness experts.
[Good Materials with Natural Latex] Our anti-snap bands are made of natural latex that is stackable, non-irritant and odor free, it has strong wear resistance and great elasticity, non-slip handle, comfortable and absorbent. Strong fabric and steel D buckles to ensure maximum life and safety during use.
[Great for All Fitness Levels] Depending on how you use them, resistant bands can be great for all whether beginners or expert, boys or girls, men, women or children. Our workout bands can apply to different types exercise. Resistance bands are used for home gym exercise, door exercise, weightlifting, stretch exercise, leg exercise, etc.
[Suitable for Burn Fat and Build Muscle] The resistance band set can be great with any popular workout like Yoga, Pilates and more. It can help you increase coordination, boost stamina, flexibility, range of motion, exercise different muscle groups, such as shoulder, arm, leg, butt, booty, and etc. You can do exercise anytime and anywhere to burn fat and shape your body.

Why choose S-caring resistance band set?
* Safe and odorless latex material is used, so that users can use these resistance bands with confidence and without worrying about harm to their body.

* Lightweight and easy to carry, there is a waterproof storage bag in the fitness band set as well, exercise bands can be carried in a backpack.

* There are five stackable tubes with different resistance levels, different colors represent different resistance levels, and resistance levels can be superimposed according to different needs

* There are handles and ankle straps in the band set, which can achieve better exercise effect when used together under safe conditions.

How to use fitness bands?
1. Used for general exercises and used alone, it can exercise muscles in various parts of the body and burn fat. If you use a lower resistance level, it can also be used as a stretch and warm-up preparation before strenuous exercise.
2. Cooperate with other exercises, not used alone, such as using exercise bands in Yoga and Pilates to help shape the perfect body.
(Beginners are not recommended to perform high-intensity exercise blindly, because there is a risk of injury. They are recommended to follow the instruction of a fitness trainer to exercise. )
The way to use cushioned handles/ door anchor/ ankle straps