Giveaway
Hello, everyone!
Thanks so much for being interested in the giveaway. The bottom picture shows how to get one Sinocare glucose meter for free. Moreover, please read following Sinocare introduction if you happen to have 1 minute. It also helps you to understand why we are running this giveaway. Thanks.
Who we are? At the very begining, in 2002, Sinocare is created by a small group of professionals, who aims to let every diabete have their own glucose meter. With the hope that diabetes can monitor their glucose at home. After 18 years' hard work, Sinocare now occupying more than 50% of the domestic market share, and now services more than 136 countries worldwide. In the coming future Sinocare is dedicated to be Chronic Disease Management Specialist worldwide. Sinocare will be the leading diabetes management expert in China and BGM (Blood Glucose Monitor) expert in the world. We hope being acquainted by more people through this campaign. Hope all of you enjoy the giveaway. Thanks again. 
Please send email to help@sinocare.com or contact our Facebook page if you have any doubts.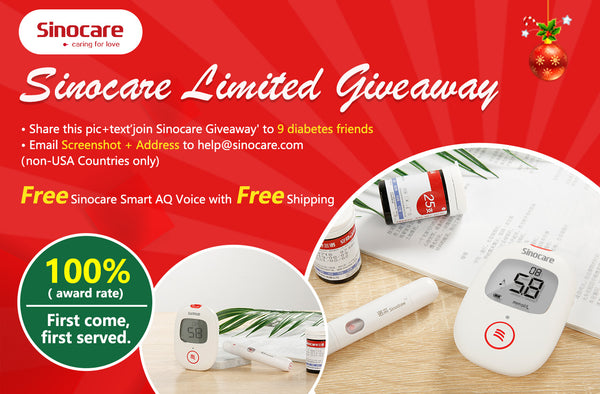 It's simple! Just send phrase 'join Sinocare giveaway' and the above pic to 9 diabetes friends (by facebook, instagram or whatever), and then send 9 screenshots of the record to help@sinocare.com. We will arrange the shipping and other things. Cheers.